Thursday, August 25, 1:00pm
Endependence Center
6300 E. Virginia Beach Blvd., Norfolk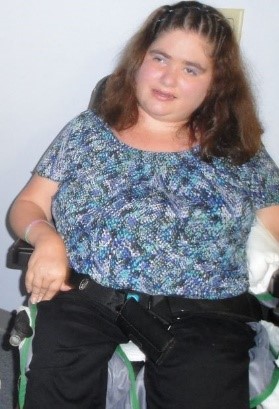 Kathryn Gage was a longtime volunteer, advocate and friend at the Endependence Center. Kathryn died June 27. She was 43 years old.
Kathryn successfully left a nursing facility in 2002. She lived a life of helping others and friendship. Always willing to help others by lending words of support and helpful information, Kathryn lived independently in her apartment until 2017 when she was placed in a nursing facility against her will.
Kathryn graduated from Caroline High School in Milford, Virginia. She had planned to attend Tidewater Community College. She was employed for a time and planned to return to the workforce when she was healthy.
Kathryn was a strong advocate for herself and others with disabilities. She attended many advocacy trainings and learned her rights and how to advocate. She participated in the ECI News Team and wrote articles for the participant newsletter. Kathryn attended several Independent Living Advocacy Days at the Virginia General Assembly and met with legislators about housing, access to medical care, and personal care support. Kathryn was active with the Young Endependent Advocates (Y.E.A.) youth group and participated in advocacy efforts to gain access to the Virginia Beach Amphitheater and the ticket booth at The Spirit of Norfolk.
Kathryn had a lovely voice and enjoyed signing. She was always up for dancing and participated in many events where she shared her joy of socializing with others. 
The Endependence Center celebrates Kathryn and all that she accomplished. We embrace the memory of her spirit of friendship, advocacy and kindness.