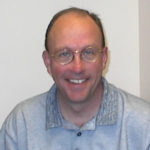 On October 17, 2022, Michael Wang passed away peacefully at 64. ECI looks back fondly and with great reverence for his contributions to the Center. Mike was an individual who understood that for people with disabilities independence was not only an option, but a right. His understanding came  from a personal level that life did not need to be viewed but participated in. This was why he agreed to be on the Endependence Center Board of Directors. Mike began serving as a board member in October 1995. 
He saw the value and importance behind the work the Endependence Center provided to the Tidewater Community, and in 1998 he became ECI's current Board President. His time at the Endependence Center was spent working closely with former Executive Director Stephen Johnson and the present Executive Director Nichole Davis. Mike believed strongly that the work that the Center did should make an impact on our community. Through his support and leadership of the Board, he assisted Stephen Johnson and the staff of ECI with making a tremendous impact on the Tidewater community. Mike's understanding of the challenges of independent living for persons with disabilities, and his witty, wry sense of humor provided strong leadership to ECI's Board.
Through this support as Board Chair, we would like to highlight a few examples of what the  Center was able to accomplish. ECI received a grant from Virginia Beach Housing to administer 100 section 8 vouchers in 1999. Mike supported ECI receiving a HUD grant to train more than 1,000 people statewide on Fair Housing Amendment Act in 2003.  Mike also assisted in 2004 with ECI  moving to our current and permanent place. Mike worked hard to ensure that the building would  be accessible and welcoming to our community.  He championed creating a support group for people residing in nursing facilities to be established at ECI in 2010. When his dear friend, Stephen Johnson, planned to retire in 2018, Mike worked tirelessly to ensure that the newly hired Executive Director would maintain and expand  the values that had been established at the Center.  The Endependence Center will miss Michael Wang and are thankful for the time, energy, and support that he provided.